A faulty software update is causing problems for Lexus car owners in the US.
The buggy code – which was delivered via a wireless transmission – is causing affected vehicles' infotainments systems to stop working.
This prevents drivers from getting navigation directions, climate controls and digital radio.
The Toyota division has acknowledged the problem saying it was "working round the clock to find a solution".
The firm added "many" vehicles had been affected. It is not yet clear whether Lexus vehicles in any other countries have been sent the code.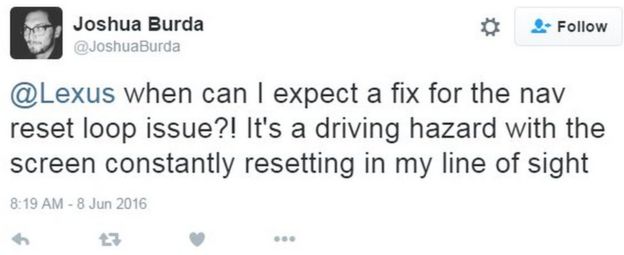 "As far as I am currently aware this does not affect cars in the UK," a spokeswoman for Toyota told the BBC.
She added that the issue appeared to be related to Enform, a data-transmitting subscription service that is not available in Europe.
Several motorists have posted videos showing the cars' screens booting up, flashing purple and then crashing. The fault repeats whether the vehicles are stationary or moving.
At least one car owner believed their car had been "hacked".
'Glitchy line'
Some owners have reported that when they disconnected their car battery, it reset the unit and made it work again. But others have said this only provides a temporary fix as the problem returns several hours later.
Although Lexus itself has yet to provide more detail, one of its US-based dealers suggested it could repair the fault if car owners brought their vehicles in.
"One of our media providers that sends information to your Lexus sent an update to the system that contained a bad line of code," said a message posted by Illinois-based Woodfield Lexus.
"The programming issue is resolved but Lexus needs to reset your system. The repair is simple and no appointment [is] necessary. Please visit our service department for assistance."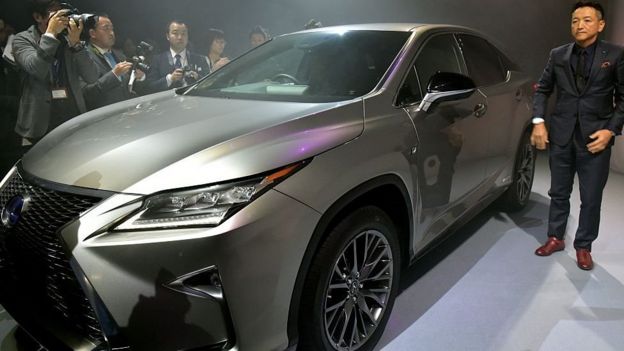 The firm suggested the problem affected 2014, 2015 and 2016 models.
The issue threatens to tarnish Lexus's reputation. It had been ranked as the "most reliable" car brand in Consumer Reports' survey of the automobile industry last year.
"Lexus has an excellent reputation for reliability, but these days that's not just about having trustworthy mechanical parts but its also electronics and software," commented Prof David Bailey from Aston Business School.
"There are typically more lines of code in a car than an aircraft, and you only have to get one part wrong for it to cause these types of problems."
Copyright: BBC Technology