BT has been told it must "put it house in order" by MPs who have accused the firm of "significantly under investing" in its network infrastructure.
Its Openreach subsidiary provides BT's rivals with access to its broadband network.
The MPs said the "shortfall in investment" could run into hundreds of millions of pounds a year.
BT made decisions that favoured its own "priorities and interests", the MPs added.
The report goes on to say that the quality of service offered by Openreach "remains poor".
BT has under invested and Openreach has been "over-earning" with investment barely up since 2009.
The Culture Media and Sport Committee is "demanding" that BT pump significantly more money into Openreach,.
If BT does not comply with the demands, MPs said they supported they idea of splitting Openreach from BT.
The statement said the committee supported Ofcom's plans for establishing greater separation between Openreach and BT Group, but makes clear that if BT fails to "offer the reforms and investment assurances necessary to satisfy our concerns", Ofcom should move to enforce full separation of Openreach".
'Higher-risk'
Ian Lucas, a member of the committee told the BBC that Openreach had a "monopoly" in provisional broadband services many parts of the country.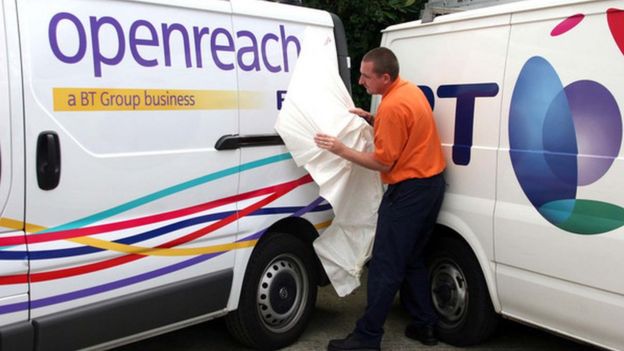 "There is a long queue for people who want broadband. It will be very familiar to those of us who remember the 1980s waiting for a phone line – it's a similar situation, weeks, sometimes months waiting for a fibre connection through Openreach and there is nowhere else to go," he added.
Rival companies have long called for a split between BT and its Openreach operation, which runs its cables, fibre and network infrastructure.
Companies such as Sky, Vodafone and TalkTalk, who pay to use the network, have claimed in the past that BT underinvested in Openreach, leading to a poor service with interruptions and slow speeds.
The MPs said the shortfall in investment in Openreach arose because BT appeared to be "deliberately investing in higher-risk, higher-return assets such as media properties, and not investing in profitable lower risk infrastructure and services through Openreach".
Copyright: BBC Technology