Amazon's UK customers can now push a button when they run out of toilet rolls or washing powder – and within 24 hours a package will arrive at the front door.
You can see the launch of the Dash service in two ways. It's either another miraculous piece of innovation from the e-commerce giant that will make our lives simpler, or a scary sign that lazy consumers are yet again handing far too much power to a US technology firm.
Amazon Prime subscribers in Austria and Germany are also being offered the service.
Here's how it works. There are Dash buttons for about 40 brands at launch, ranging from dishwasher tablets, to instant coffee to condoms. You buy the button – but get the cost off your first purchase. Then you set it up with the Amazon shopping app, choosing the exact product and your delivery preferences. From now on, when you run out of that product, pressing the wi-fi-connected button will simply trigger an order via the shopping app.
And, yes, Amazon has thought of what you were thinking – if your children delight in pressing buttons repeatedly, you won't get a mountain of toilet rolls delivered to your door. Once an order has been placed, you get a notification, and another button press within 24 hours will be ignored.
The company says the aim is to do away with the most tedious of shopping experiences.
"Nobody gets retail therapy shopping for toilet paper," as the executive demonstrating the Dash button explained to me.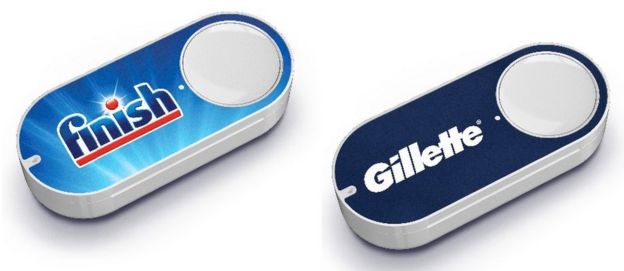 Dash was greeted with scepticism when it launched in the US in March last year. Were people really lazy enough to want to do that?
At first, it was slow to take off, but those who used it demanded more buttons, and now there are more than 150 products available.
Amazon is, as ever, light on detail when it comes to giving out numbers, but it says orders through the Dash button have grown threefold in the past two months.
It's being launched in the UK along with a sister product, which takes removing the hassle of shopping a stage further.
Dash Replenishment involves devices such as dishwashers and printers automatically ordering new supplies of tablets or ink cartridges without their owner needing to do anything, except sign up in the first place.
What Amazon is doing here is providing the first really compelling examples of how the so-called internet of things could transform our homes, with smart appliances talking to the network about their needs.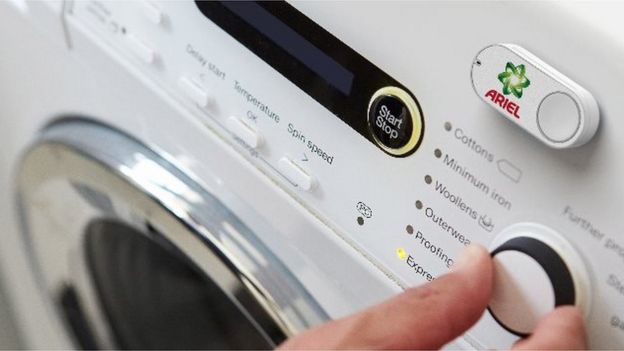 It's also a demonstration of the extraordinary breadth of skills at the disposal of Jeff Bezos's firm – from a deep knowledge of what makes consumers tick, to an extraordinary logistics operation that can now deliver products to some addresses within an hour, to the nimblest supplier of cloud computing services on the planet.
But hold on a minute.
Are we so lazy now that we are happy to have one pack of soap powder make its way from Amazon's fulfilment centre down busy city streets to our door, with all the environmental impact that entails, rather than heading to the shops and getting everything in one go?
Shouldn't we have the weekly shop delivered to us by a British supermarket?
Are we happy to tie ourselves to big brands whose buttons we will push, or whose appliances will buy their perhaps pricey supplies on our behalf?
And do we like the idea that this brilliant American technology firm will be collecting ever more data about our shopping habits, even if it is doing that to deliver us a better retail experience?
Like it or not, shopping is becoming an on-demand, push-button, instant gratification experience. And, as in so many other areas of our lives, it seems likely that it will be shaped by a US technology company.
Copyright: BBC Technology